I MET DITA!! February was definitely Dita von Teese month for me. I don't even know where to begin... Obviously the best thing was getting to meet her. I finally got my hands on her book (which is now signed!) AND my lovely boyfriend randomly surprised me with a bottle of her amazing perfume. This post is basically going to be me raving about anything Dita related, so you have been warned!
I think it was back in December that I found out Dita was coming to Toronto. I couldn't believe it! I'm usually not the kind of person to freak out over celebrities, but Dita isn't just any kind of celebrity in my opinion. She has definitely helped me to get in touch with my feminine side, be more confident in my own skin and she introduced me to the wonderful world of pinup and burlesque. I got my ticket for the book signing shortly after and the countdown began..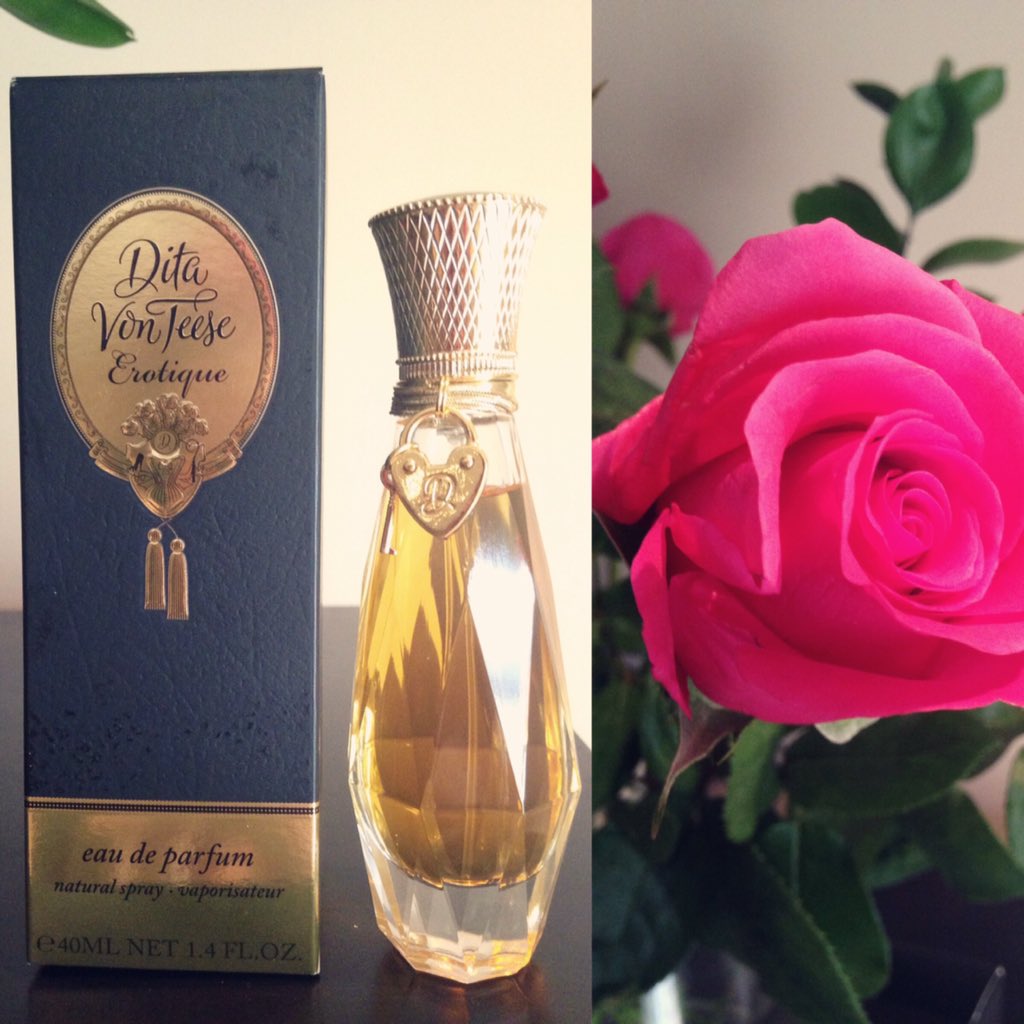 My boyfriend surprised me with Dita's perfume Erotique a few weeks ago as an early Valentines gift. I had been eyeing it for weeks, but never took the plunge because I just wasn't ready to buy something I hadn't even smelled yet! Apparently the boyfriend randomly saw it at a shop (not knowing I had been looking at it) and figured I'd like it since I had been without perfume for over a year and am crazy about Dita.
I asbolutely love this perfume! It features rose, incense, leather, pepper, coriander, musk, sandalwood, cedar and guaiac wood. The first time I sniffed it, it was unlike any perfume I had ever smelled. Very masculine and woody.. Needless to say I was a little scared! But then I put it on and after a little while it started to remind me of expensive leather. Sophisticated purses, bags, gloves. Later on the roses and musk came forward and the scent got more soft and rounded and all in all more feminine. But not like sweet, candy, girly feminine like so many perfumes out there, but a sophisticated adult woman. This puts all my previous super sweet perfumes to shame. I feel so strong, elegant and womanly when I wear this perfume.

The only downside is that it doesn't last very long, and I've noticed I'm not the only one with this problem. It does tend to linger in my hair which is nice! Unfortunately I think this perfume isn't going to be around much longer, so I'm going to have to be quite sparing with it. I know there are some other Dita perfumes out there though, so I'm sure once I run out of this one I'll be able to find one of her other scents.
The Book: Your Beauty Mark
Her book... oh my I don't even know where to begin. It's like my bible now. There are so many helpful tips and tricks on anything you can imagine. From in depth information of perfume making to shaving your armpits. Whenever I read it I feel like I'm in class, and I like to keep a sheet of paper and a pen with me to take notes of anything I feel I need to remember.
I have heard mixed reviews on it though. People either hate it or love it. Some complain about her comments on body hair or the fact that some things like hair and make up tutorials aren't very detailed or in debt. Personally I do think there could've been a bit more pictures and maybe diagrams
for hair setting patterns but overall it's pretty decent.
People also complain that's it too much of an add for MAC cosmetics, but I don't really see that. Dita mentions several brands and usually for good reason. Whether it's because it's something she uses regularly herself, she's friends with the creators or has some kind of history with the brand. I personally don't feel like anything is being pushed on you in terms of products or brands.
The main thing the book has done for me so far is to stop myself from feeling weird about the fact that I like to dress and doll up 90% of the time. I do love the spend time on how I look, and it's for nobody else but me (although it's nice to know the boyfriend appreciates it too!) I believe every day should be a special occasion. Plus I simply don't get stuff done in pj's and a bare mug..

If you're a fan of Dita or simply want to bring some more glamour into your everyday life I would definitely recommend this book. I would also recommend it if you're looking for a book on body positivity and self care. If you're purely looking for a book with in debt hair and make up tutorials you might be better off with youtube tutorials or other books.


I got up super early this day not only because I could hardly sleep anyway, but also because I still had to set my hair and do my make up (I can't stand sleeping in pin curls). Luckily the weather was absolutely amazing.. it was like spring! So I could wear flats and my nice coat without freezing to death and also not worry about my eyes watering or my hair getting rained/snowed on.
Once we got to Rosie the Rebel (my favourite retro clothing store in Toronto!) there was a pretty big line of girls all dolled up. It always makes me so happy! The closer we got to the door the more nervous I got. Eventually I got in and last minute my boyfriend got to score a ticket from the guy behind us as well so he could come in with me :) A lady wrote your name down on a sticky note and you had to put this inside the book (which I btw thought was a very clever idea! No name confusions or misspelling). Then after waiting for a bit in line, I got to meet her and take a picture with her!
Not the most flattering picture.. I'm super self conscious about my teeth, but I guess for some reason I thought it would be a great idea to smile with my mouth open! Ugh!
She's honestly just as flawless in real life as she is in her pictures. She was also very soft spoken and came across very humble and timid. And she is so petite! She looks so tall in her pictures but in reality she's a petite little doll. There's so much I wanted to say to her, but all I could stammer was 'It's so nice to meet you' and 'Thank you so much!'. Unfortunately we couldn't make it to her burlesque show that same night, but she just said that she might just bring her show 'Strip strip Hooray!' to Canada in the near future so I'll just wait for that.
Sometimes you meet 'famous' people in person, or even just regular people you've seen online or whatever and it can be a bit disenchanting. Even the boyfriend said that once I'd meet Dita I'd realize she's just a regular person. But somehow I don't feel that way at all! Of course I know she's just human, but I honestly think she's an extraordinary person. She's not putting on a show all the time or a persona. She is the way she is. She lives and breathes everything she does. It's very inspiring.
And this brings me to the end of my Dita post! Needless to say February has been great to me concerning all my Dita wishes :) I hope you enjoyed this post and share your Dita experience with me in the comments!